8 Reasons Why I Decided to Write Online (And Why You Should Too!)
To new beginnings
My desire to write was ignited by reading poetry, books, and articles during my teenage years. However, I wasn't sure what I would be writing about. A novel? A blog? Social media posts? I didn't know.
Until Dec 2019—that was when I started working in Content Marketing.
Learning more about content writing, SEO, and marketing in general cultivated a desire to start a personal blog—where I could share my learnings through books, articles, work, and more.
But procrastination and fear of perfection always ensured I kept delaying the process.
Then in 2021, I started following a bunch of online creators—notably David Perell, Ali Abdaal, Austin Kleon, and Sahil Bloom—who regularly talk about showing your work and writing online. These creators addressed pretty much all challenges and fears I had about putting myself out there.
And now, in February 2022, I finally decided to prioritize progress and growth over perfection and procrastination.
I purchased some online real estate to start a personal blog.
To put myself out there.
To become a citizen of the internet.
But before I get into writing about anything and everything, I think it will be appropriate to talk about my WHY behind the WHAT—writing online.
This introductory blog post will discuss why I am starting to write online.
P.S. I truly hope my reasoning below encourages you to start whatever it is that you have been delaying and putting off.
I'm starting a personal blog to:
#1 To become a citizen of the internet
When I first heard Imagine by John Lennon, this part from the song stuck with me:
I have always felt a spiritual connection with humans all over the world—beyond physical boundaries, religions, and cultures.
This belief has made sure that I view myself as a global citizen at all times. Now, I can't travel across the world, visit every country, and connect with people—given my current circumstances, responsibilities, and finances.
So, how do I put my thoughts out there and hope to connect with individuals who share my interests? By becoming a citizen of the internet—as David Perell puts it.
As remote work accelerates the process of connecting with people globally, it is about time for me to start writing online. I am certain this will help me find my voice, share my personality, and have people worldwide read what I have to say.
Even if people do not read what I have to say initially, I at least have put myself out there for them to go through me whenever they wish to.
#2 To create more while maintaining my consumption
I have found so much value through online creators, articles, books, and mentors at work.
And, I feel the content that I have hoarded isn't reaching its true potential if I don't share it with people who might not have come across it yet.
The problem with hoarding is you end up living off your reserves. Eventually, you will become stale. If you give away everything you have, you are left with nothing. This forces you to look, to be aware, to replenish. Somehow the more you give away, the more comes back to you.

Paul Arden
Now, this is where my fear of perfection kicks in. What can I say that has not been said yet? Almost everything I can write about has been said and shared already.
But my perspective and experience about those things are just mine. My message might not be unique, but the messenger is unique.
Even if I can help or inspire one person through my writing, I'll be a delighted man.
Here's a fantastic TEDx talk that discusses marrying novelty and familiarity:
#3 To increase my surface area for serendipity
I came across the term 'serendipity surface area' via Sahil Bloom's Twitter thread. What it means is pretty simple and extraordinary at the same time.
By putting yourself in front of an online audience—where literally anyone from anywhere can read your content—you increase the likelihood of great things happening to you.
Day and night, your content searches the world for people and opportunities. Projects, mentors, speaking gigs, job offers, pitches, investment opportunities, interview requests, podcast appearances, and invitations to special events. It all starts with sharing ideas online.

David Perell
You never know who will end up reading your writing and what it can lead to—a dream job, an exciting project, or a lifelong connection. This thought alone induces in me an adrenaline rush that's second to none.
So, writing online is my attempt at maximizing my surface area for serendipity.
Check out this video for more on creating your serendipity vehicle (at 6.03 timestamp):
P.S. I highly recommend watching the whole video as it played a crucial role in pushing me to start writing online.
#4 To write better, I'll be motivated to read more
Reading is a great way to cultivate new ideas and perspectives. There is a long list of other great benefits of reading that we all know. But the problem is that I haven't been able to build a consistent reading habit.
From whatever inconsistent reading I have done so far, I can already feel the tremendous value of this life-changing activity.
Starting this blog will force me to read more frequently. To write about new things, I'll have to read more. I'll have to think more. And then process those thoughts and learnings better via writing.
This is something I am genuinely excited about!
#5 To truly write for myself while creating value
At work—as a SaaS Content Marketer—I write about topics that can help our target audience achieve their business goals.
However, I have always wished to create a platform to truly write for myself. About something that makes me happy. About something that helps me. About something that can eventually help my readers.
This blog will help me experience the joy of creating value for someone while doing something truly for myself.
#6 To develop clear thinking
It is a well-known fact that when you write about something, your mind is able to consolidate that topic. Writing is genuinely therapeutic as it helps you better understand yourself and recognize what you know and what you DON'T know.
I have seen a lot of people benefit from journaling their feelings and daily life. Why not write and share everything that you learn along the way? It's bound to help others while you make better peace with yourself.
Moreover, this improved understanding of concepts and your being helps you think clearly. And when you can think clearly, you can communicate clearly. This is another important goal of mine—to communicate something in a way that's as awesome as it is in my mind.
#7 To get more feedback and improve continuously
Once you hit that 'PUBLISH' button, your work is out there for people to read, enjoy, critique, or connect with. When you write in public, you are bound to think better. You will push yourself in a way that you probably wouldn't if you were to not write in public.
Writing online is a way for me to build accountability, get feedback from generous individuals, seek the truth, and improve my craft continuously.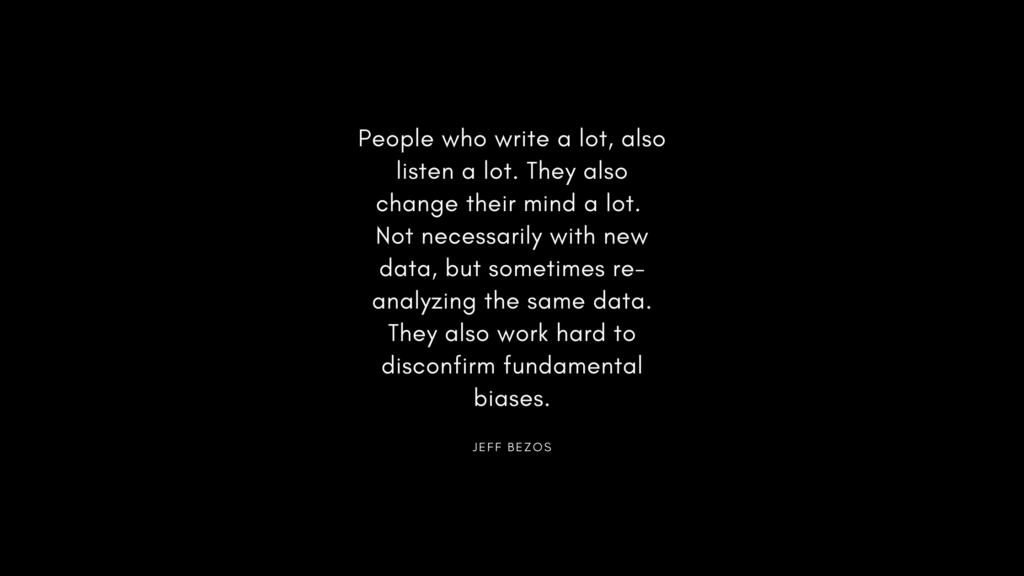 #8 To build a network of like-minded individuals
As mentioned earlier, I wish to connect with individuals who share my interests, work, and thoughts through this blog. And what better way than writing online to do so?
I wish to say what people are thinking but haven't spoken or written about it yet by writing online. I am looking forward to helping my readers in any possible way and striking a meaningful connection.
I hope you enjoyed reading this introductory post! You can expect book reviews, my learnings from interesting podcasts and videos, my journey as a Content Marketer, and much more on my blog.
And if you're thinking of getting started with a passion project of any kind, please do. I hope my reasoning in this post resonated with you. A lot of these points apply to various careers—writing, designing, coding, etc.
Comment below to let me know your thoughts on this post. What did you relate with?
Connect with me on Twitter or LinkedIn. I'll be glad to talk to you!
Until next time,
Piyush
Featured Image by Andrew Neel on Unsplash